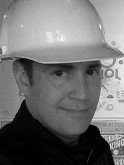 Edward W. Crabaugh, P.E.
Oregon License 56489
Washington License 43989
Edward Crabaugh is a graduate of Oregon State University and has been practicing engineering in the Portland / Vancouver area for over twenty years. His structural engineering experience in the residential, commercial, and industrial sectors is complemented by involvement with architectural design, building envelope design, construction defect/forensics, permitting, and construction administration. His specialty areas of practice are structural renovations, additions, alterations, and repairs, including seismic rehabilitations/retrofits.
ECEC strives for economical, appropriate, constructable designs to add the most possible value to building projects and properties. Our consulting philosophy is based on addressing the larger questions beyond the details and assuming a leadership role in the project at hand. A thorough knowledge of engineering principles, building codes, and the construction industry allows us to find the most effective paths to clients' solutions.